Beauty is in the Details
COSMETIC TREATMENTS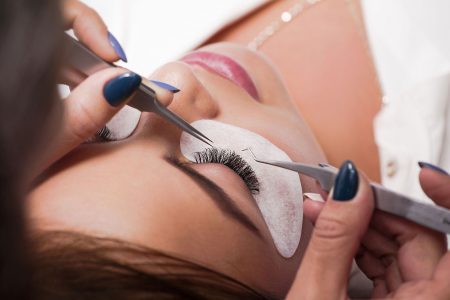 $185 (Super Star Application – 1 Hr 45 Min)
$60 (Touch Up – 30 Min)
Welcome to the newest technology of Permanent Eyelash Extensions. Soft durable, waterproof and long lasting. Incredible Eyelashes for any bride to be, vacationers, or just feeling amazing.
We only use a premium Mink Hair that are far superior than any other eyelash extension in the beauty world today.  Our expert and Certified-Trained Therapists apply the eyelash extensions only to your own eyelashes. Nothing ever comes in contact with your skin.  All of our procedures are conducted in a relaxing, stress-free environment. The extensions are applied lash-by-lash using special adhesive developed especially for the eyelash extensions and is certified and approved by Health Canada.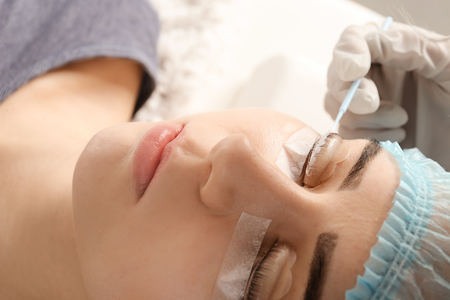 Lash Lift – $65.00
Lash Lift & Eyelash Tint – $85.00
+ Eyebrow Tint – $95.00
This semi-permanent treatment will lift, separate and curl without the need for extensions. Lash lifts are a low maintenance technique that lifts, curls and separates the eyelashes and gives the illusion of longer length. This technique makes the eyes pop and look more open, resulting in a more awake and youthful appearance.
A gentle lifting solution is placed on the eyelashes and it lifts and curls the eyelashes from the base of the root. The eyelashes are beautifully lifted, curled and separated for the next 4-6 weeks! Fantastic for the busy woman on the go!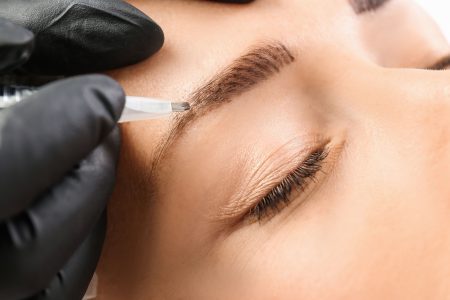 $500.00 (MicroBlading – 2 hours)
*Includes follow up visit 4 weeks Post Treatment
 Colour Boost – $250.00
*For existing clients 6 – 12 months
MicroBlading is a semi permanent solution to thin, or thinning brows. This service is great for scars, line reconstruction and gaps. In choosing this service it is imperative you have a highly skilled practitioner who understands brow anatomy and who can design your brows perfectly.
During your free 15 minute Consultation we use our own brow theory to determine your corrections. With our expert advice, you can choose your own width, colour and design. We believe eyebrows are your trademark!
*Please note because of the high demand of this service, a $100.00 deposit is needed  prior to booking. This deposit is non-refundable for cancellation.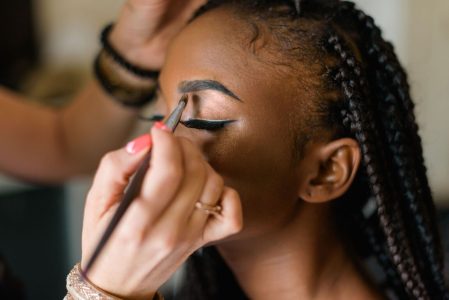 Cosmetic Application – $70.00
Cosmetic Lesson – $75.00
Eyelash Application – $28.00
Enjoy the choices to achieve that right look for you. At The Spa, we offer smooth velvet pencils and soft colours for that natural look or dramatic colours for those special occasions. Enhance your natural beauty with the incredible look of our cosmetics.
Save Time & Feel Beautiful
PERMANENT COSMETICS

Make your makeup last, and save time in your beauty routine! Most colours last between 3-5 to 10 years depending on the colour. Periodic touch-ups are recommended to maintain the desired look. Schedule your 30 minute consultation to discuss your treatment options ($25 cost for consultation – deducted from final price of treatment). Touch-ups can be scheduled as well, at a rate of $250/hour.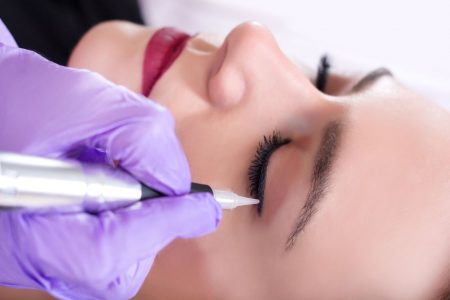 Upper – $450.00 (1.5 Hours)
Lower – $350.00 (1 Hour)
Both – $700 (2.5 Hours)
Eyelash Enhancement – $600 (2 Hours)
An eyeliner procedure defines the lash line and enhances your eye shape. Thickness and colour may vary according to a client's request. Pigment is implanted close to the lash line to ensure a natural line. Eyelash enhancement includes colour along the lash line only.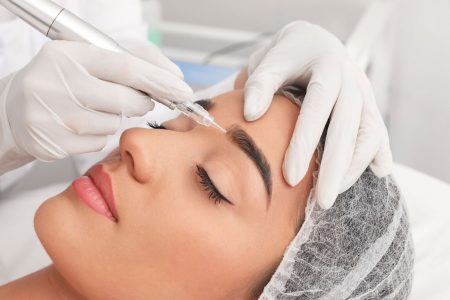 If you use a pencil to define your eyebrows, permanent cosmetics would certainly rid you of that burden. Keep the perfect shade and shape during the gym, swimming and while you are asleep. An eyebrow procedure may take on the appearance of simulated hair strokes of colour beneath existing light and sparse hairs.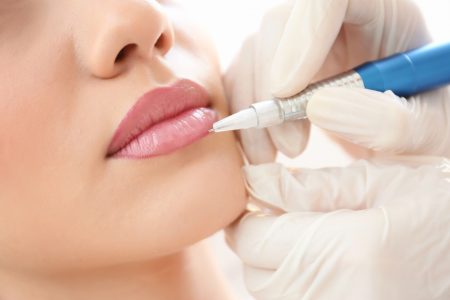 Liner Only – $650 (2 Hours)
Liner & Colour – $800 (3.5 Hours)
A lip liner only defines the existing lip line, but may also augment the size. It can also camouflage any scars and other abnormalities such as cleft palate. Lip augmentation to increase the size and fullness of the natural lip line.